Hi everyone, I hope your having a great Saturday.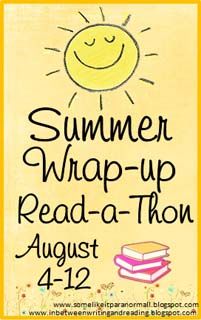 Today the Summer Wrap-Up Read-a-thon starts and I'm very excited to be participating.
You can click on the picture to get more information on the read-a-thon!
Since the read-a-thon is a bit longer than ones I've participated in the past I'm going to have quite the long list here! So without further ado here is my TBR for the challenge.
Bloodrose by Andrea Cremer
The Story of Us by Deb Caletti
Bloodlines by Richelle Mead
Gilt by Katherine Longshore
Auracle by Gina Rosati
Until I Die by Amy Plum
Endlessly by Kiersten White
Insignia by S.J. Kincaid
The Forsaken by Lisa M. Stasse
Working Stiff by Rachel Caine
The Golden Lily by Richelle Mead
That's it for now but I could get more done!